Hofner 500/1 1961 Reissues


Beatle Bass Dealer


Your online Hofner Bass and Guitar Dealer!
Welcome to Beatle Bass Dealer.com, your online Hofner Bass and Guitar Shop. We're a USA Hofner dealer located in Chicago and a division of Rock N Roll Vintage Inc. We have great deals and low prices on Hofner Basses and Guitars. Shop online or visit our Chicago Hofner bass and guitar store. Please contact us about prices, availability or to place an order. We specialize in German, Custom Shop and CT basses and guitars and we have one of the largest selections of German basses in the Midwest. We're not one of those super stores, you will find we're easy to work with and knowledgeable about Hofner. Every customer receives personalized service. Contact us by calling our shop at 773.878.8616 or drop us an email at Sales@beatlebassdealer.com. Hofner has a large number of standard basses and guitars as well as limited edition instruments. We have stock on hand and we're minutes from the warehouse so rest assured we can quickly deliver that German or CT Series bass or guitar you've been looking for. We ship guitars and basses world wide so please don't hesitate to contact us next time you're looking for a Hofner Guitar or Bass.

Australian Customers, try our new toll free number (during store hours): 1.800.813.658

Just Released ... An excellent Hofner Video showing the construction of the Hofner Beatles Bass!
Hofner HCT 500/1 Bass
Finish Flaw Special

2013 Hofner Ltd Edition Verythin Guitar with Bigsby

1961 Reissue Cavern Bass, Flat Back - The Works



Hofner HCT 500/1 . ... This a truly amazing bass at an incredible price. These basses are new but they have a variety of finish flaws. These may include be slightly overbuffed binding, cloudy tailpiece chrome, spots or a clear coat drip. At this price who cares!

Price: $699



The new 2013 Hofner Contemporary series CT Verythin Guitar with Bigsby. New for 2013, this guitar has an amazing antique sunburst and tone to match. Includes Hofner hard shell case and 2 year factory warranty. This is a limited edition guitar.

Price: $799

See more photos and info on this guitar



Looking for a real German violin bass at a great price ? ... Here's a clean 90's lefty reissue with nice dark sunburst violin bass with a great vibe and killer tone to match.

Price: $1895



See larger photos and other specials



Limited Edition 1961 Lefty and Righty Beatles Bass ... These are sound as amazing as they look. Flat back bodies, rugby ball tuners, cavern spaced diamond logo pickups and killer tone. Perfect for tribute bands and collectors. Includes Hofner vintage style case.

Price: $2869

Hofner Verythin Bass - Just arrived and ready to ship
New for 2013 - The Cavern CT Violin Beatles Bass.

Used 94 500/1 bass ... This reissue is an excellent example of Hofner's iconic "beatles bass. It's in great shape and includes hard shell case.

Price: $1895



2013 Hofner Verythin Bass - Recently arrived and ready to ship. These basses now include a custom hard shell case. Great tone and cool vibe really set this bass apart.

Price: $899 - See more photos and info on this bass




Now in stock!! - The new Cavern CT Violin bass. This is a Hofner first. In stock and ready to ship, quantities are very limited!

Price: $949





Hofner has just released the Jubilee bass. We have Righty and an uber rare Left handed Jubilee bass in stock. Price: $3999

Please contact us photos.

For orders and additional information call 773.878.8616 or send an email to sales@beatlebassdealer.com
---

Here are some of our most popular Hofner Guitar and Hofner Bass lines


Vintage Series German Violin Basses
These basses are reissues of the classic 500/1 and 5000/1 German basses from the late 50's and early 60's. These carefully crafted reissues include German staple pickups, vintage tuners, logos, Nitro finish and expert German craftsmanship. These are built to order so there may be a lead time on orders. Current models include the H500/1-61, H500/1-62, H500/1-64, and a fretted and fretless 5000/1 Deluxe. Most models are available in both righty and lefty versions.


German Club Basses
A variation of the hollow body Violin basses, Club basses offer a single cutaway semi acoustic bass with German spruce tops and great German craftsmen ship. Classic tone in a a more traditional design. Hofner currently offers the H500/2 in righty and lefty models.


CT Series Basses
Based on yesterdays classic Hofner's, the CT Series violin Basses are Contemporary updates designed for the tough live performance of today's guitarist. New - Verythin and President basses bass are also available on a limited basis.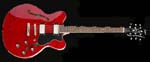 Hofner CT Guitars
Hofner was a leader in early European semi-acoustic guitars with the Verythin. This tradition is carried forward today with new range of Jazz and Blues guitars including the increasingly popular Verythin guitars. Models include the CT Verythin HCT-VTH guitar, the HCT J17 Jazz Archtop guitar and the Verythin 3.


Contact Information:

Sales@beatlebassdealer.com
773.878.8616

Australian customers, try our new toll free ordering line
M-W-F Noon to 6 CST, Tues-Thurs Noon to 7 CST and Saturdays Noon to 5 CST
1-800-813-658

Beatle Bass Dealer, an Online Division of Rock N Roll Vintage Inc.
4740 N Lincoln Ave Chicago, IL 60625

- Back to Top -

Discount Hofner shipped world wide including Australia, UK, Germany, France, Spain, Canada, Norway, Denmark, Sweden, Japan, Korea, Mexico. Brazil and beyond.