Limited Edition Gold Label B Stock 500/1 Bass

The Hofner
Matte Black 500/1 Bass
Hofner 500/2 Club Bass, light weight beautiful finish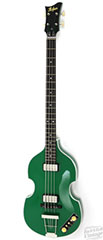 B Stock Gold Label Limited Edition 500/1. Hofner has finally left their comfort zone. This amazing bass is light weight and ready to rock. This is a Gold label bass. This is a B stock with minor blemishes. Includes Hofner hard shell case and 2 year factory warranty. Please contact us for an in had description..
List Price: $3499 Our Price: $1995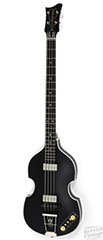 Hofner Matte Black violin bass. For Hofner collector who has everything. Very cool matte black bass. One of only a handful built. Bass includes Hofner hard shell case and setup by our Luthier. Please contact us for additional photos and information.

Our Price: $2895



Take advantage of this opportunity to get into a genuine German 61 Hofner Reissue. This bass includes a Hofner hard shell case and 2 year Hofner factory warranty. Supplies are very limited. Perfect for the road.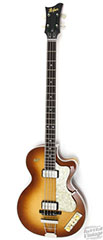 Hofner 500/2 club bass. This is an amazing bass. Plays great and has that vintage vibe with a modern body style.

Price: $2799


Rare Prototype Hofner Club
in Black - B Stock Special

Hofner B Stock Orange Gold Label Limited Edition Bass
Rare Natural Blonde World History Model WHP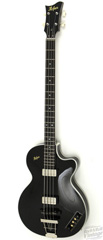 Hofner B Stock Club bass in black- As Hofner is never one to stop improving their instruments, this is a one-off prototype with a solid center block. It adds a small amount of weight and helps balance things a bit better as well as adding some sustain. As it was a prototype it has a little more play than the typical b-stock so there are some finish blems on it from being handled. Hard shell case and 2 year Hofner factory warranty.
Price: $2495r photos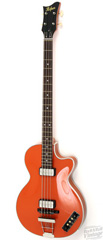 Hofner Orange Gold Label B Stock Club Bass - Insanely cool orange club bass. It's an opaque orange that will surely be noticed from across the room. Their Gold-Label designation is reserved for the cream of the crop and limited run pieces that really are the best examples of the brand. Please contact us for additional details or to place your order.

Price: $2495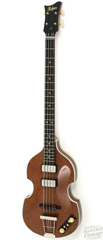 This is an amazing bass gold label limited edition bass. The body is a very pretty birds-eye maple-- top included-- and it's mated to a rare all-mahogany neck. Both are not common sights on a Hofner but construction wise it's the same classic Hofner formula: fully hollow body, big comfy neck, 30.5" scale, and flat-wound strings. This is a b stock bass, please contact us for details.
Price $2295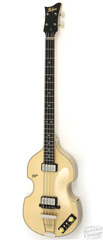 This bass is a WHP (World History Premium) Edition. These Hofner basses were commissioned for the Japanese market but a few found their way into the US, and our shop in particular! :) These are designed to be the most accurate replica of Paul's bass you can get. Made for the uber discerning Japanese customer. At it's core it's a V62 but the bridge pickup is a little closer to the bridge, the output jack is in the vintage position a little closer to the tailpiece, there is no end-pin so you'll have to attach the strap to the tailpiece like Paul. Please contact us for details.
Price: $3295


Hofner German V62 Lefty Custom Shop Euroburst
B Stock Ed Sullivan Lefty Bass with Gold Hardware
New For 2016
Flame Maple Hofner Club